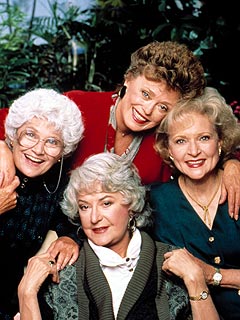 Was she really eighty-six years old? Time stands still with Golden Girl reruns, I still think of her as as the bossy, opinionated, vibrant Maude, she was so good in that role.
Mother was such a fan of Golden Girls, I would call her on the phone, and she would often say to me, "What's new, pussycat?"  She loved to parody Estelle Geddy.
My favorite part of the show was the clothes.  Those ladies really dressed, they were always perfectly coordinated in bright colors, and oh my, did they wear shoulder pads.  And who didn't love Betty White, and Rue McClanahan was such a hoot.  It was a wonderful show, but not my favorite.
My show has always been  Designing Women.  It ranks right up there with Lucy and Andy.  I adore southern women, I always have, and Dixie Carter in her day was an amazing lady.
It's sad that we don't have shows like this anymore.  They were so much fun.  One of my faves was the Elvis episode, if you have time for a peek, it's a goodie, ladies… Enjoy…